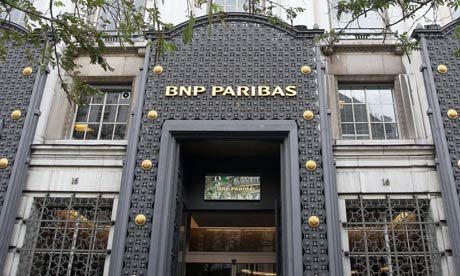 The eurozone debt crisis claimed a fresh victim on Monday when the
planned merger between the real estate arm of French bank BNP Paribas and the UK property consultancy DTZ
was scrapped.
DTZ's majority shareholder, the French family-run property group Saint George Participations, pulled out of takeover talks to take the company private. It had made a tentative bid in partnership with
BNP Paribas
Real Estate
, which was to merge with DTZ in a deal valuing the company at about £162m.
Tim Melville-Ross, DTZ's chairman, said: "The external environment has contrived to prevent the considerable efforts of many people over the past months to consummate a transaction."
DTZ's chief executive John Forrester added: "BNP's sponsorship of the merger was not available given the pressures they are under … This was nothing to do with DTZ. BNP Paribas Real Estate would have loved to have done the deal, and that's why it went all the way up to the deadline. They were not able to move the deal forward at this time."
He cited the problems faced by the
French banking system in the wake of the eurozone sovereign debt crisis
. French banks, including BNP and Société Générale, are among financial institutions with the largest exposure to Greek debt, alongside Greek banks and
Belgian-French lender Dexia
. BNP Paribas Real Estate declined to comment.
BNP Paribas made a €4.7bn (£4.1bn) profit in the first half of this year and has said its exposure to Greek debt, which amounts to around €3.5bn, is manageable.
Bank of France governor Christian Noyer insisted on Sunday that French banks would be able to absorb any losses from a writedown on Greece's debt. He said while they had €8bn of Greek debt on their books, they made combined profits of €11bn in the first six months of the year. So an increase in the writedown of 21% on their Greek debt agreed by Europe's banks in July – which was "probably" needed, he said – would be manageable for French banks.
While DTZ, whose main growth driver is Asia, in particular China, said it was reviewing its strategic options, Forrester ruled out a break-up of the firm. "That would be ludicrous. We have contracts by dint of our international platform. You would destroy very significant lines of business."
Julia Kollewe
guardian.co.uk
,